Description
It makes no difference whether you are a National Health Dental Practice, or a top end Cosmetic Dental Practice, if you have a passion for providing excellent Communication to your Patients, then you will love these CDs. Over 2 hours of material, spread over 6 CDs you will have all the strategies that we go through on the two day programme. They are a great reminder for people who have taken this course and also for people who are new to the material. You can listen to them in the car or at home, one thing is for sure you will never forget the material.
You will discover:
How to create the perfect consultation and patient journey. Build stronger lasting relationships with your patients
The secrets to becoming a true master of the art of persuasion. Discover what to say, that will influence your patients to take action. Help more of your Patients to say YES
Learn what not to say and discover the biggest mistakes dentists and their teams make in their communication with their patients
Feel more comfortable about talking money & achieve the prices your Services deserve
Develop a six step approach to overcome your patients objections and reservations
How to gain commitment and the value of follow up
How to handle patients complaints and create raving fans
Understand your patient's personality style and adapt your communication to their style
How to work together as a team, so that you never drop the baton again
And much more…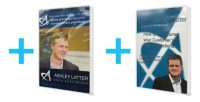 SPECIAL OFFER!
Buy this CD Set and we will send you 2 DVDs FREE – Overcoming Objections and Discover the Secret of how Good Practices become Extraordinary Practices.